Skylight Blinds
Sun4Light carries VELUX's entire skylight blind collection. Differentiate your any room by adding revolutionary skylight blinds to turn an ordinary room into something special. From stock options to custom colors, you can design your space to reflect your personality.
Go Solar & Save!
Solar Tax Credits
Add solar-powered room-darkening or light-filtering to any fixed or manually venting skylight and the entire project qualifies for a 30% solar tax credit!
Example of Go Solar Option
Fixed Skylight & Flashing: $497
Shingles, Underlayment + Installation: $700
Solar-Powered Blind: $425 Credit
Total: $1622
Less 30% for a tax credit of $486.60

$1135 TOTAL
Control the Sunlight
Five out of ten consumers want light control on skylights. One out of ten has it. See how easy it is to control the light by adding a skylight blind to your VELUX skylight.
Drama
Not only does natural light create drama, it actually alters the way we feel about living space in a positive way. Let Sun4Light install VELUX skylights so you can help dramatize any room in your home.
Balance
A perfect example is how carefully positioned skylights can help bring harmony to a home. Positioning skylights above windows opens up space and reduces glare. The room is now functional, flexible, and relaxing.
Privacy
Homes are being built closer to one another and the balance of providing sufficient natural light and privacy has become an issue. That's why 65% of home buyers request light from above through skylights in their bathroom, a room where privacy and light are of the utmost importance.
Energy Efficiency
The addition of skylight blinds can increase the overall energy efficiency of your skylight by 45%. In the summer, on high heat/sun days, close the skylight blinds to reduce potential solar heat gain. In the winter, on cold nights, close your skylight blinds to provide an extra layer of thermal insulation to keep warm air indoors.
Types of VELUX Skylight Blinds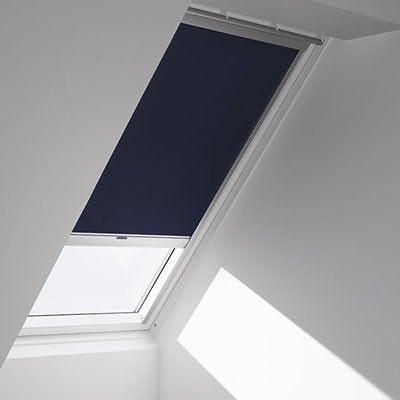 Room-Darkening Blinds
Double pleated room darkening skylight blinds feature blackout polyester cloth with a honeycomb design. This type of blind is a superior solution for controlling light and reducing heat gain/loss. The blackout blinds can convert day into night, blocking even the brightest sunlight, making them ideal for rooms that require total darkness, such as bedrooms, or family/bonus rooms. The skylight blind can be either manually or solar-powered and therefore does not require wiring at installation. Simply snap into place and operate with an included keypad remote.

Improve Your Energy Performance by up to 45%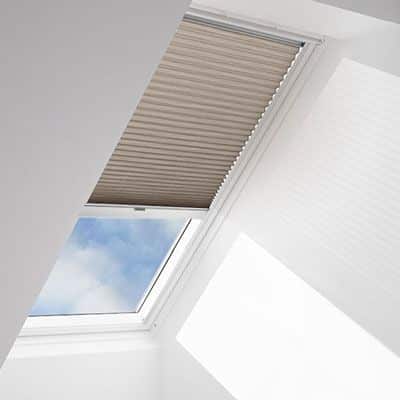 Light-Filtering Skylight Blinds
Light-filtering blinds are excellent for diffusing light. This sleek design is great for enjoying the light without the glare. Available for all stock –sized fixed, manually, and or solar-venting skylights. In order, for the skylight replacement or new installation to qualify for the solar tax credit, the factory Installed blinds must be ordered and installed at the time of skylight installation 6 All factory-installed solar-powered skylights include the Velux KLI 100 (up/down/stop) basic handheld remote plus the Velux Gateway System. This system allows the use of a mobile phone app to operate the blinds. Perfect for rooms where diffused light is desired such as kitchens and living rooms. Offers both protection and good looks.

Improve Your Energy Performance by up to 39%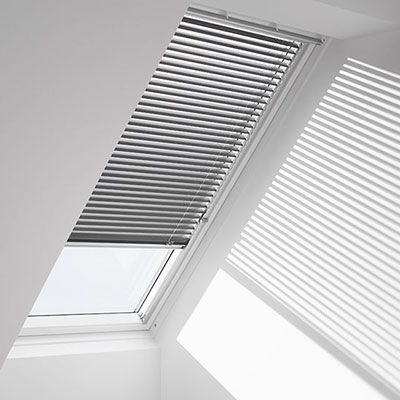 Venetian Skylight Blinds
The Venetian skylight blind features make operation simple and convenient, with a control mechanism that allows you to position the skylight blinds at any point on the window. Improved designs give you control over both the amount and direction of light, making it perfect for any room where light control and aesthetics are important.

Improve Your Energy Performance by up 34%